Prints of Love
Prints of love are cast pewter keepsakes adorned with fingerprint impressions capturing a moment in time and lasting forever.  The keepsakes range from $60-$195.  All products are cast pewter with the option to 24k gold plate or rose gold plate.  Products include necklaces, keychains, cufflinks, earrings, ornaments and paperweights.  The fingerprints can be done at any age but the handprints are babies only (8 months and younger). Impressions can be done in person (check out pop-up schedule below) or by ordering a kit.
Artistic expression
Want to add to your collection or need a gift? Here are some ready made pieces ready to ship.
View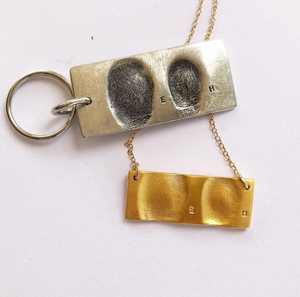 Prints of Love Bar Kit
Sale price Price $25.00 Regular price
Tax included.
Handmade.
Handmade by me. Cast pewter and 24k gold jewelry and keepsakes with a personal touch. Whether it's creating an artistic expression or a fingerprint impression, I want my jewelry to evoke those feel good emotions.
made with love,
Casey
To view fun video and pics about the process (click here)